Featured
Employment Opportunity at the NWPA ALF
News
Employment Opportunity at the NWPA ALF
25 Jan, 2023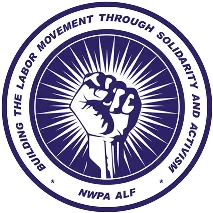 Read More >

Employment Opportunity at the NWPA ALF
Employment Opportunity at the NWPA ALF
Erie-Crawford CLC Scholarships
News
Erie-Crawford CLC Scholarships
21 Dec, 2022
The Erie-Crawford Central Labor Council offers three scholarships to the members or dependents of their affiliated local unions. Please review the application for the details. We encourage everyone eligible to apply. The deadline for application is April 21st.
Read More >

Erie-Crawford CLC Scholarships
Erie-Crawford CLC Scholarships
FREE EDUCATIONAL CLASSES canceled due to lack of interest
Recent
FREE ZOOM Educational Classes
IAFF 1976 and Labor Celebrate tonight!
The Legendary Career and Spiritual Calling of John Sweeney
Life and Legacy of Father John (Jack) O'Malley 1936-2020
Beaver-Lawrence Leads the way for "Mercer County Labor Solidarity Days"