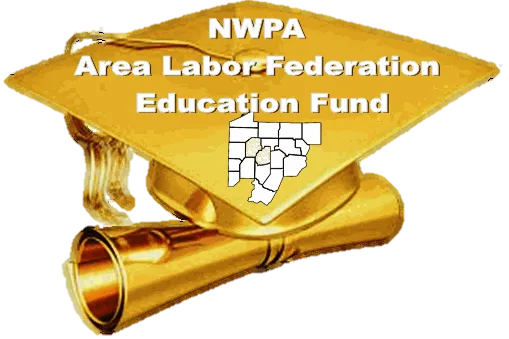 The NWPA Area Labor Federation, AFL-CIO is proud to offer three scholarships yearly. The funds are raised independently and are not dues dollars. We enlist the help of the members of our affiliates to serve as judges of the essays submitted.
Our Judges receive essays stripped of identifying information and evaluate them based on; did they follow the rules, spelling, grammar, and most importantly the content. Our judges each year say they have a difficult time rating them because so many are so well written. We are grateful for their help,
This year's winners are as follows:
The NWPA ALF Scholarship is awarded to a High School Senior and Ashley May Wood submitted the winning essay letter "T". She will be attending  Penn State Behrend this fall.  Her father is a member of USW 1016.
The David A Bielski Scholarship is awarded to a post-secondary student and Emily Peles submitted the winning essay letter "F". She is a student at West Virginia University and her father is a member of Boilermakers Local 154.
The Dr. David Ferster Scholarship is awarded to a Graduate Student and Megan Koma submitted the winning essay letter "A". She is a student at Duquesne Law. Her mother is a member of AFT 2099.
We congratulate our scholarship winners! They will receive their awards at our Convention on June 28, 2022. It begins at 6:00 PM in the VFW Hall located at 411 Ninth Street in Franklin, PA 16323. Their winning essays are published in our convention booklet and will be in the July edition of our NWPA ALF News.
All of our applicants displayed the characteristics of winners; people who are self-starters, dedicated, and willing to work to obtain the necessary funding to help them achieve their goals. Each of you has shown more initiative than the greater majority of your peers. Even though you may not have been our winners this year, remember you can always enter again next year. We thank you and wish you well!