Qualified Applicants Needed for the position of Director of the NWPA ALF
Revised on March 10, 2023
The NWPA Area labor federation is seeking qualified applicants for the position of Director. Interested applicants can see more information at https://unionjobs.com/listing.php?id=23622  The deadline for application is Thursday, March 23rd.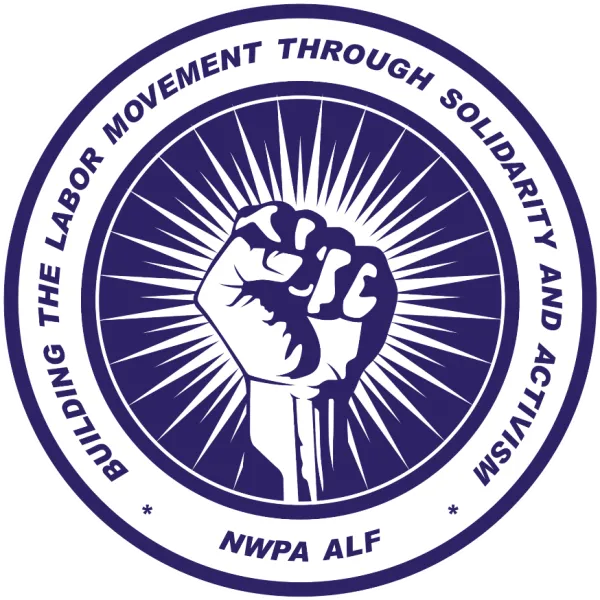 Northwestern Pennsylvania Area Labor Federation, AFL-CIO

Director
Based in Franklin, PA
The Northwestern Pennsylvania Area Labor Federation, AFL-CIO (NWPA ALF) is a district level of the AFL-CIO created in 2006 to promote through appropriate activities the principles of the AFL-CIO, to build a strong political voice, to build a strong local labor movement of working people through solidarity, activism, and education for working families agendas. We do this at our level by assisting the Central Labor Council and affiliates within our jurisdiction. We serve as a fiduciary for Per Capita payments and record keeping of the affiliates and their delegates to the NWPA ALF, the CLCs, and the chapters in our area.
The NWPA ALF is located in the northwest corner of Pennsylvania with a jurisdiction that includes 19 counties. We are a 501 (c)(4) organization, which makes us a non-profit but not tax-exempt. The NWPA ALF is comprised of eight (8) Central Labor Councils, one (1) Chapter, and more than 250 affiliated local unions representing approximately 40,000 members.
Recently our Director, who has been with us since our inception, informed us she is going to retire. As a result, we are seeking applications/resumes with cover letters from individuals interested in this position. It is a full-time union-represented position based in our Franklin Pennsylvania office. This position occasionally requires work outside normal business hours, including some nights and weekends, and it also requires occasional travel to attend meetings, event locations, and training.
We are an inclusive and diverse organization committed to advocating social, racial, and economic justice. We promote diversity and strongly encourage applications from all who believe in our mission.
As the Director of this organization, you will work collaboratively with the NWPA ALF Chair, Executive Board, our Trustees, Affiliates, Central Labor Councils, the State, and National AFL-CIO. All of your work will be done under the direction of the Chair and the Executive Board of the NWPA ALF. We are sure you will enjoy the scenery as you travel to work, our quarterly meetings, the CLC meetings, worksites, and the various locations for activities, actions, and events in the NWPA ALF and beyond if needed. Another benefit of this job is networking with some of the most interesting and dedicated labor leaders in Pennsylvania and beyond. The stories they share about the history of their involvement in the labor movement are awe-inspiring.
Your primary responsibilities will be to maintain the day-to-day operations of the organization. This will include:
Maintaining accurate and up-to-date books, entering and tracking per capita payments/ income, and paying bills
Maintaining QuickBooks and LaborKey software, managing invoicing and generating financial reports as needed
Supporting the efforts to maintain an increased affiliation by tracking per capita payments, and if necessary, contacting the unions that may be in arrears, and working with the NWPA ALF board and members to support the affiliation
Promptly maintaining the data and databases
Supporting the organization's operations by scheduling meetings, establishing calendars, sending out emails, coordinating meetings, and preparing and editing documents and communications. You will produce and distribute newsletters, and notices, maintain websites, and ensure proper procedures are followed, information is collected, and records are maintained relating to our scholarships.
Keeping active and current records within our different accounts; General Account, Education Fund, Venango-Clarion Chapter Account, and the NWPA ALF PAC Committee account, will also need to be maintained.
You will:
Work together with the NWPA ALF Chair and Executive Board on aspects of organizational development, fundraising, organizing campaigns, conventions, special planning projects, the itinerary of training and meetings, developing materials, issue mailing, and calls, etc.
Prepare and make available all information needed for the audits and reports for the NWPA ALF meetings. Our accounts are audited by our Trustees on a three (3) month basis (March, June, September, and December). Such reports are to be presented at the quarterly meetings.
Prepare reports annually to the AFL-CIO, and the PA Department of Revenue (Sales & Use Taxes, etc.) as needed.
Prepare information and make copies for a CPA. We are required to have one perform an annual audit/review and prepare all the documents for the IRS (IRS (990s)(1099s).
Work not only in a computer/office-based setting with many in-person and zoom meetings but also travel to work sites and participate in events, marches, and demonstrations in order to show our Solidarity and gather first-hand information relevant to the goals of the NW PA ALF
Have the ability to lift and move boxes and supplies as needed to keep things orderly and functioning
Have a valid driver's license and a dependable vehicle.
Your qualifications and skills should include:
Bookkeeping and computer proficiency in the following systems; QuickBooks, Microsoft Word, Excel, PowerPoint, Publisher, Outlook Internet, a willingness to learn additional software and systems, and a working knowledge of InDesign for our newsletters
Excellent organizational skills and attention to detail
Basic knowledge and understanding of general office procedures and the ability to plan and coordinate work activities, keep detailed records, and file reports promptly
The ability to work within the context of a plan and the ability to manage projects self-motivated
The ability to meet deadlines, effective time management skills, the ability to prioritize multiple tasks, and demonstrated experience in developing personal work plans and goals
The ability to work with and support volunteers who are carrying out the work of the organization.
We hope to hire someone with a strong commitment to building the labor movement through Solidarity and Activism. You will serve as the NWPA ALF Director in a full-time salaried position with pay that will be commensurate with your experience and may range from $45,000 to $48,000 annually.
We offer a benefits package after a 30-day probationary period with health insurance that includes vision, prescription, and major medical, At nine months you will be eligible for dental coverage. More details of the benefits package will be discussed during the interview process.
To Apply:
Send a cover letter and résumé to Andrew Harkulich, Chair at: nwpaalf@gmail.com, with Director in the subject line Please submit by March 23, 2023.
WHEN APPLYING: Be sure to indicate that you saw this information at UNIONJOBS.COM.