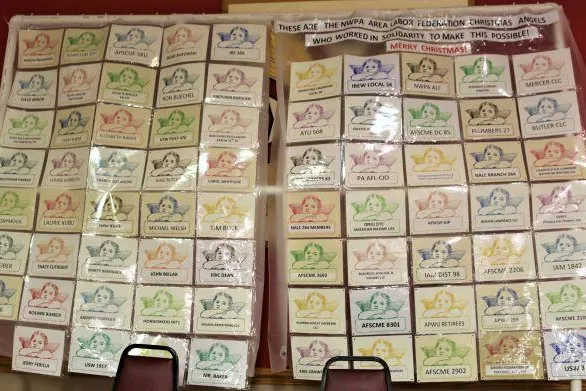 On Saturday, December 18th, the NWPA ALF hosted a Christmas Party for the members of Ironworkers 851 who were on strike at Erie Strayer; it was made possible with the assistance of more than 70 Unions/union organizations, numerous members, businesses, and volunteers. We had an ANGEL WALL with an angel for each of them, acknowledging their support and creating a visual image for all present, especially the members, so they could appreciate the vast amount of Solidarity that made the event possible. The members of Ironworkers 851 and the NWPA ALF thank everyone who made this possible! Funds were still coming in and delivered to their Staff Representative Tracy Cutright even as the event was happening.
We all enjoyed beverages and cookies with Santa (Andrew Harkulich) and listened to Christmas music provided by Terry Baker. Becky and David Valvo helped with the set-up and served the donated cookies and beverages. Jim Nuber, Andrew Harkulich, Ron Buechel, Tracy Cutright, and Walter Geiger helped set-up before the event. Mike Butler greeted everyone as they arrived.
Santa kicked off the event, welcoming everyone and telling them the VFW Post 470 donated the hall for the event, and everything they saw in this room was also donated. The members of Ironworkers' 851 received all of the donations and gifts received. Santa wished everyone a Merry Christmas! Andrew Harkulich had the privilege of introducing Ironworkers International President Eric Dean before taking his seat.
When President Dean spoke, his words brought tears and cheers from those present. He was proud of the strength and Solidarity of his members which endured the longest strike ever by an ironworker's local. After 12 weeks on strike, they got a contract and would return to work on Monday. It was cause for celebration for the members and numerous other labor leaders/activists who joined us for the event.
Solidarity filled the room, but nothing was as heartwarming as seeing the smiles on the faces of the children and members of Ironworkers 851. Mr. Baker took pictures of the children with Santa and their families using a Polaroid Now Camera and gave them directly to the family. Some members asked that we not post photos of their children on the Internet or Facebook during a conversation at the picket line. We showed them respect and honored that request.
Glenn and Alex, Ironworkers 851 members, helped identify their union brothers and gave them items. The children all received an over-stuffed American-Made Union-Made stocking at the party. Each member received a donated Terry's Orange and several Giant Eagle gift cards, and those with children were given a bag of goodies containing two wrapped gifts for under the Christmas tree and hundreds of dollars in Giant Eagle gift cards for each child to purchase gift cards of their choice for shopping.
Unfortunately, two of the members were not present for the event. They stayed away because of COVID exposures. We thank them for caring about everyone and wish them a speedy recovery. Their gifts were dropped at their doors after the event by their union brothers.
You can view the angel wall on page 20; it recognizes all who made this event possible. When we work together, we accomplish so much! Because of you, WE made this Christmas merry and bright for our union brothers and their families. Thank you!