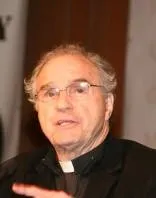 Born in 1936 in Pittsburgh, PA AFL-CIO Chaplin Father Jack O'Malley had a normal childhood attending school, playing sports, and later even trying out as a free agent for the Detroit Pistons. But while attending college Father O'Malley decided to enter the priesthood and was ordained in 1965. In his ministry, he served as a labor advocate for the people and said he was humbled by the honor because he had "learned a lot from workers" since he got involved in labor issues in seminary.
Father Jack, as we all called him, was a humble servant of GOD and passionate advocate for the underdog and the working class. He was referred to as the Chaplin of the UNIONS for more than 50 years. During those years, he touched the lives of many people especially, in western Pennsylvania.
At union events, you could always tell when Father Jack walked in the room even if you weren't facing his direction. The eyes of those near you seemed to look a little brighter, the smiles widened on their faces, and their heads turned and fixated on him if only for a few seconds.
When this humble man spoke he always incorporated a little humor. If he talked about his life experiences, he would have kept us on the edge of our seats for days. Though he shared tidbits, like when he reminisced how his father marched with the labor priest Father James R. Cox for the rights of veterans and workers, and that he was even baptized by him, thus instilling labor's legacy into him at a very early age. But, Father Jack was always focused on the issues and needs of the day. He was an inspiring and motivating speaker that moved people to take action.    
He was always on the go visiting people in hospitals, prisons, on picket lines, at social justice events, at rallies, in union halls, attending civic meetings, speaking to or in support of labor, or lecturing from the pulpit. Because of his level of activism, he knew and influenced people from all walks of life and all levels of service to the public. This made Father Jack a most valuable resource and if needed he was a powerful advocate.
According to him, more important than his ability to speak eloquently was his ability to listen, when you listen intently and give people time you will find the crux of the problem. We can always address the immediate need but the best cause of action is to fix the essence of the problem.
Father Jack made everyone feel important and appreciated. Throughout his life he was honored by numerous organizations and received some very impressive awards like; PA AFL-CIO's "Citizen of the Year Award", Allegheny CLC's gave him an award which read in part, "Congratulations on 50 years of serving God and the Labor movement", and the Spiritus Paenitentiae Award from his alma mater, St. Francis University in Loretto, PA. This humble man always accepted his awards with gracious humility paying tribute to those who helped make it possible for him to receive the award.
Unfortunately for us and maybe a blessing for him, as he had been suffering from a debilitating illness the last few years of his life, Father Jack O'Malley went to join his maker on Friday, September 11, 2020. He will be deeply missed by many in organized labor and our communities.
On September 15th and 16th, we paid our respects to this remarkable man. While sharing our stories and memories of Father Jack, his legacy was unveiled. The history of advocacy, activism, social justice, and community service, which he inspired in many of us, will serve as his lasting legacy as we continue our work.
For those of you who missed an opportunity to pay your respects, condolences may be left at www.mccabebrothers.com.